It's LEAP year! Think about the fact that only every 4 years we magically get to add an entire day to our shortest calendar month! This February has been special indeed.
At CES we took advantage of this gift of an extra day and we accomplished even more for our community!
When I think of Leap Year I immediately think of those rare individuals who are born on February 29th. I mean that's pretty unusual, and if it were me I'd be feeling pretty special! To be honest, it's kind of weird, too. How the heck do you celebrate the next three years? Do you age less? Just kidding here, but it is strange, you have to admit! I'm sure it has given a government employee or 6, some headaches in filling out those dry, stuffy forms.
Finding myself in an inquiring state, I thought I had better dig into this Leap Year puzzle. I thought that I would really like to interview the guy(s) who figured out we should have a Leap Year every 4 years.
Okay, so here's what I know. Julius Caesar gets the credit, but let's face it, he surely had a smarty pants or three, giving him the "411" on all the science and math stuff. Lo and behold, it turns out that the calculations were made by his astronomer, Sosigenes.
Who knew? "Not I", said the cat.
I think of all the people born on this unique day, that only comes around every four years, and I bet they'd like to thank the guy in charge of the calendar project, the guy known as the "Father of Leap Year," Julius Caesar!
In case you'd like a nice concise explanation of Leap Year, I suggest that you read this simple article here: https://www.thoughtco.com/history-of-leap-year-1989846
So what was CES up to during this very busy February?
For starters, we were once again a proud sponsor of the very important 8th Annual Tampa Drug Prevention Summit, put on by our good friends at Drug Free America Foundation and Hillsborough County Anti-Drug Alliance.
This annual event brings together professionals and workers in the area of drug prevention, drug rehabilitation and recovery, to name a few of the good-guys in attendance. Many different sponsors and vendors who are active in supporting drug prevention come aboard to bring the most effective and helpful tools to all attendees. The speakers who participate are always chosen with such care and concern to bring current, relevant information to all.
CES in partnership with our best friends at the Foundation for a Drug Free World Florida Chapter, always attends this event in sponsorship, since the very first year!
We ensure that all who attend the summit get as many of the effective drug prevention materials from www.drugfreeworld.org as they need/want. We also sign up educators for their free "classroom-in-a-box" kit so that they can easily deliver a full drug education curriculum to their students, clubs, groups, etc.
You too should check out this very interactive website as it is current and has much to offer. It even provides Truth About Drugs lessons on a wide variety of drugs of use and abuse, right there online. This way you can access these materials in the privacy of your own home for use in your personal life, with family, friends, co-workers, etc.
We at CES support those who tirelessly work to keep harmful drugs from ruining or losing lives. We consider those people friends, and friends deserve support. Thanks also to Florida's Attorney General, Ashley Moody, for a supportive video message at the Drug Summit!
---
For the Birds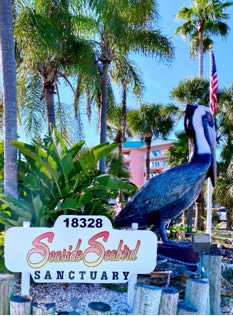 Seaside Seabird Sanctuary is quite a special place of healing for many different seabirds and other rescued avian friends.
Birds are brought into the sanctuary with a variety of injuries and illness. Run by a real local good guy, our friend Keith Wilkins, his staff and volunteers, provide a haven for these flying Florida friends. Located in Indian Shores, Florida, this non-profit organization is one that is unique and very much needed.
CES is happy to help promote the Seaside Seabird Sanctuary and garner support for them. Recently we visited Keith and the skilled, caring staff and received a behind-the-scenes tour of the hospital. We are more determined than ever to bring awareness to this incredible group of dedicated and caring people.
Please visit their location and see the many interesting residents of the sanctuary and support them in any way that you can. There are owls, osprey, pelicans, and much more. It's quite a special visit you have in store. This is a fantastic learning experience for you and your family.
Also, check out their supply wish list, and perhaps provide some help, today. Even dropping off your old towels, cleaning supplies, or a lovely cash donation will help!
www.seasideseabirdsanctuary.com
We love these guys so much, that we brought them into our new studio and created a promotional piece for them. Here you can see it and become inspired to help them, too.
You can watch it here or on our YouTube channel:
We have so much coming up in terms of GOOD NEWS and featuring it all in one place where you can see it!
A Launch is coming soon…so stay tuned.
CES sends everyone good vibes and lots of love!