We are lucky living in Florida in that our governor has, by executive order, allowed restaurants to operate at 100% capacity since September 2020.
There are municipal restrictions that pop up here and there, but there are no restrictions from the State. Even so, there have been struggles and there are operations that simply didn't make it through the shutdowns.
Getting people in the frame of mind to go out to eat and walk through town enjoying the small businesses has become something of a campaign for Consumer Energy Solutions (CES) in an effort to help support these local businesses.
We do a lot of social media and we decided we could take advantage of that by "partnering with" some of the small businesses and restaurants in our own back yard.
Oriana, our social media manager, and I hit the streets and did just that.
---
Lorenzo's Lakeview Produce Stand
First, we went to a local produce stand that has been struggling not only because of the pandemic, but because the city has been working on the street right in front of his stand for months! It takes a map at this point to understand how to get to his produce stand that is, in fact, still open.
This is Lorenzo's Lakeview Produce stand in Clearwater. Here you will find beautiful fruits, vegetables, farm-fresh eggs and more. (And I mean literally "farm-fresh" eggs!) His organic fruits and veggies are gorgeous and less expensive than what you find in the grocery store. I go there every week!
Lakeview Produce is a perfect example of a small business that should be supported. We have been promoting Lorenzo's stand on our social media and encouraging people to visit regularly.
---
Restaurants
On Cleveland Street in Downtown Clearwater, where CES is located, there is an area of town called The District. Two blocks of Cleveland Street have been barricaded and closed off to traffic so that restaurants can set up outside seating in the street. There are things going on every night, live entertainment, restaurant specials, and more.
Here's what it looked like at lunch time in The District recently.
We popped into some of the shops and restaurants in The District, met managers, took pictures and added this all to our campaign to get people to go down to The District and enjoy the food and activities.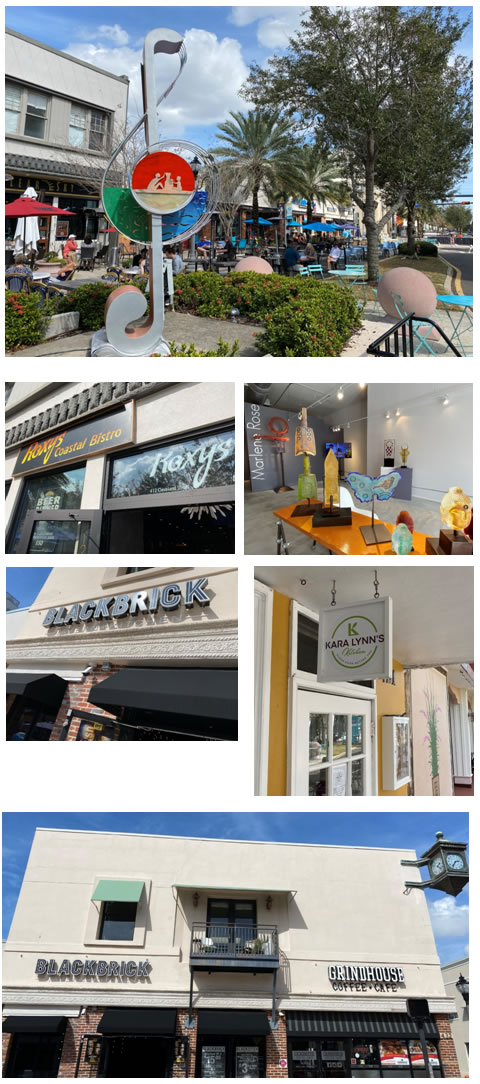 We have a great community and undoubtedly you do too! It's fun to figure out how to celebrate it and the attention helps your local businesses thrive!