Yes! It's entirely possible!
Many Companies Experience Overcharged Utility Bills.
Did you know? Almost 70% of companies and an astounding 90% of non-profits have been overcharged by electric companies. Way back in 1986, a study by the U.S. House Ways and Means Committee found that utility companies overcharged customers by a huge $19 billion in just one year.
In today's world there are over 150 cost components to every utility bill! This means there are over 150 ways for there to be an error on your statement. Most of the time these overcharges are accidental, but they do happen more often than you think and they add up! These errors can be caused by human error, faulty equipment, and the application of incorrect rate plans. Sometimes it's a genuine error, like a meter reading issue or getting utility rates mixed up. At other times, it's something more complicated, like tax misclassification.
Case Study: An Overcharged Customer in Florida
One example of energy companies overcharging: , the owner of a small RV park in Tallahassee, Florida discovered that his business qualified for a sales tax exemption he hadn't known about. The city felt that it was the business's responsibility to find and qualify for tax exemptions and had never informed him of this exemption. It's a good thing this owner looked into it and found his business qualified, because he ended up getting a rebate of approximately $5,600 in sales tax exemptions going back 3 years.
Sources of Bill Overcharges
Another common source of utility bill overcharges is rate change errors. The exact amount a utility company charges for a unit of energy can vary significantly based on many different factors that determine a customer's rate. A third category of errors can come from mistakes in the metering process (reset errors, meter malfunction, recording and mathematical errors, etc.)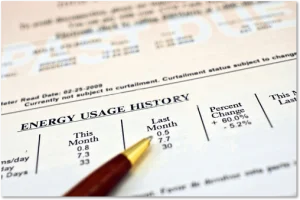 The Consumer Energy Solutions Utility Recovery Program
If you don't know how to find errors in utility bills, then you don't know how to tell if the electric or gas company is overcharging. To help commercial and non-profit entities identify and recover these overcharges, Consumer Energy Solutions has created the new CES Utility Recovery Program.
This program begins with data gathering—the CES team pulls together all the customer's utility bills going back anywhere from three to four years. We can look at your electric, gas, water, waste water and telecommunication bills. Our goal is for you to save money on utility costs, finding utility bill errors and solving long term energy usage worries. 
A complete review of both the utility and the supplier–a utility bill audit–is done to check for errors and overcharges. Every component of every bill is scrutinized for errors of any of the types described above.
Once mistakes have been identified, CES presents its findings to the utility company, makes certain that the errors are rectified and arranges for recovery, which can take two forms: either a refund or credit is processed, or the utility bill is reduced by the amount of the error for future bills.
CES will also provide you with educational material so you can enable staff to identify and remedy billing discrepancies in the future.
Click here to get a free quote.
There are no upfront fees. In fact, if we do not find overcharges, there is no cost to you at all.
It's easier than you think!
You can have a free consultation by contacting 866-748-2669