At CES we got going with the holiday season a tad early. Being 2020 has been such an unpredictable fellow, I really enjoyed rushing into Christmas!
There's really no better way to lift the spirits than by helping others. As the old adage which comes from St. Francis of Assisi says:

The Arc Tampa Bay Foundation's Festival of Trees
CES is a supporter of the Arc Tampa Bay Foundation which has been bringing our community their annual Festival of Trees for 36 magical years!
The Arc Tampa Bay provides critical services to enrich the lives of people with intellectual and developmental disabilities. They offer numerous Adult Day Training programs and 18 Group Homes where participants thrive amongst their peers. The hallmark of the Arc Tampa Bay is helping to enable those with disabilities to live life with dignity and inclusion.
As 2020 has continued to push on with so many altered plans and importances, it appeared this beloved event might just have to fall under like so many other charitable programs. However, the wonderful staff, volunteers, supporters, and sponsors would not let this happen!
Re-envisioning the event, it was re-configured as a virtual event, but with 40 actual POP-UP Locations emerging so that the treasured, uplifting, in-person visiting of the actual magical Christmas trees and wreaths could still happen.
CES was happy and eager to become one of the 40 such pop-up area locations. Along with many wonderful businesses, we were thrilled to help out by decorating a prized tree which would be sold for the benefit of the Arc Tampa Bay Foundation.
When we first entered a tree in 2018, we actually WON the Blue Ribbon for 1st place in our category. That was our "Elfin Positivity" tree which whimsically spread messages of goodness and positivity to all!
We loved our entry so very much, that we purchased it back as a donation to The ARC Tampa Bay Foundation. You can come by to see this Elfin-whimsy tree when you come to visit our pop-up location Winter Wonderland which proudly displays our 2020 entry as well.
This year's entry is called: "Unique as a Snowflake" which has a down-home, vintage feel with magical snowflakes of every variety imaginable. From crystal snowflakes to solid wood! From ice-skates filled with pinecones and adorned with snow-glistened beauty on each and every branch! To me, it's not a magical tree without a hand-crafted magical tree-topper.
So, in true ice-palace style, our tree topper is swirly and shiny and a 3-dimensional snowflake beauty!
Oh and yes indeed, our CEO, Patrick Clouden, Mr. Philanthropy himself, fell madly in love with this year's beautiful tree and we again purchased our tree back as a donation to the Arc Tampa Bay.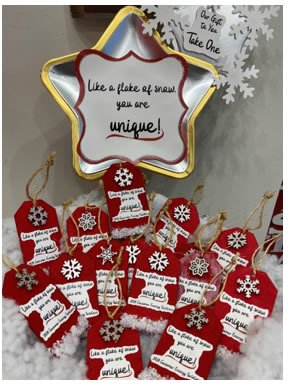 We would love to share the holiday joy with you. If you are local, come on by, bring your kids, friends and take photos, and share the joy with others. In commemoration of your unique beauty, you can take home a gift of a hand-made snowflake ornament.
You can visit our display of trees through December 4th in our 4th floor lobby reception. Also, be sure to pop by all the other pop-up stops in our area.
View all of the gorgeous wreaths and fully-decorated trees on their virtual sale. All purchases will be donations to this very-deserving charity which provides such goodness and help to others with developmental disabilities.
www.festivaloftreestampabay.com