We have had a winter season across the nation that has had quite a bit of drama. My own business had to deal with a shutdown caused by Hurricane Irma in 2017 so I understand what natural disasters can do to a business! With run-away wildfires out West, flooding in the Midwest, tornados ravaging the South, and huge snow storms with strong winds moving from the Midwest to the Northeast, plenty of businesses across our nation have experienced wicked weather, power outages and downtime. Direct Energy Business wrote an insightful article on this very subject and so I'm posting it in full right here. I hope you'll find it to be useful. –Pat Clouden
Direct Energy Business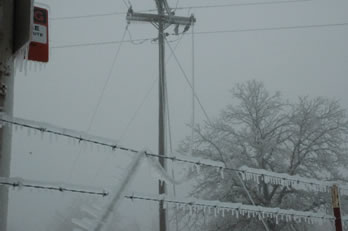 The best-laid plans for reaching your business goals can be thrown off course by something more powerful than any market force: Mother Nature. In 2018, storms and natural disasters caused an estimated $91 billion of damage across the U.S., according to the National Oceanic and Atmospheric Administration. The previous year, the cost was a record $312 billion. Losing power from a storm or natural disaster can lead to major disruptions—from damaged product or business assets to reduced operational capacity and loss of business.
You can't control the weather, but you can prepare for it. Fortunately, there are a variety of steps that you can take to protect your business from the consequences of major weather events, and specifically, the damages that can result from losing power. Here are some tips from our energy partner Direct Energy Business that will help you mitigate the risks to your business, protect your assets and workforce, and get back up and running after a major loss of power.
What risks do weather events and natural disasters pose to my business?
Each year, major weather events—and the loss of power that often results—threaten the continued existence of businesses across the United States. According to the Federal Emergency Management Agency, nearly 40 percent of small businesses never reopen their doors following a disaster. And among small businesses that are closed for at least five days, more than 90 percent end up closing for good within one year, FEMA says.
Storms and a loss of power can cause a cascade of negative consequences for business owners, including prolonged downtime, decreased revenue and productivity, data loss, and damaged equipment. About half of business owners believe that a power outage will cost them up to $5,000 per hour, according to a study published in the American Journal of Economics and Business Administration.
While many owners recognize that a weather disaster can wreak havoc on their businesses, few actually have a comprehensive plan to mitigate their risks. According to Nationwide's Small Business Indicator, 22 percent of small business owners said that they have been affected by a natural disaster. Forty-nine percent of those surveyed indicated that it would take them at least 3 months to fully recover from a disaster. Yet, only 32 percent of those surveyed have a written disaster recovery plan.
What can I do to prepare my business for weather events, natural disasters, and a power outage?
You have a thoughtful, detailed plan to grow your business. It's critical to have a similarly thorough plan to prepare for serious weather events and a loss of power. Here are some suggestions to get started.
• Review your insurance coverage: Review your existing agreements with vendors, insurers and property owners. Know which assets are protected in the event of damage caused by a disaster, how to navigate the claims process, and your obligations to business partners.
• Secure data: Make sure to back up and secure important documents, such as employee and client records, financial and legal agreements, and documents related to insurance and supplier agreements. For additional protection, consider secure cloud-based solutions that store your critical data off-site. With the cloud, you will also have easier access to your important data from any location.
• Document your assets: Document the current state of your property and assets, as well as any damage that occurs following a disaster. By showing the before/after state of your property and assets, you can help expedite the insurance claims process.
• Protect your assets: If storms are predicted and it's safe to do so, consider transporting important equipment and other assets to business locations that are safer. Keep up with property maintenance all year around and remove dead or overhanging trees or branches that could cause a power outage.
• Store on-site generators and fuel safely: Place generators and fuel in a location where you can access them quickly.
• Communicate early and often: Proactively review operational and communications policies and procedures with employees, so that everyone knows their roles and responsibilities in the event of a disaster and/or a business closure. This will help keep your workforce safe and get your business back up and running sooner.
• Develop a shelter-in-place plan: Establish shelter locations on your property. Also keep a supply of bottled water, non-perishable food, a first-aid kit, and battery-powered flashlights on-site.
What steps should I take to get my business back up and running following an incident?
If your business has been impacted by a major weather event or power outage, it's crucial to restart operations as soon as it's safe and feasible to do so. Here are some tips to help you get back to business.
• Start the claims process: The sooner that you document damage and file insurance claims, the better. Jump-starting your claims process will help you get the resources needed to reopen your business.
• Contact your lenders: Some lenders will work with business owners to defer payments and fees.
• Contact the SBA: The Small Business Administration has a dedicated disaster assistance team that can help you navigate the disaster recovery process. The SBA also has low interest loan programs that can help affected business owners resume operations sooner.
• Keep communicating: It's important to provide clear, concise updates on your recovery status to employees, suppliers and customers.
• Consider a partial re-opening: If you can offer some products and services to customers, it could be beneficial to resume business on a limited basis. This would provide your business with some revenue and keep your business top-of-mind.
• Connect with other stakeholders: Other businesses, elected officials and community organizations may be going through similar challenges following a disaster. By aligning your efforts, you could expedite the recovery process for your business and community.
• Plan ahead with your employees and turn lemons into lemonade: In a major weather event there can be severe property damage from wind, rain, floods, snow, ice, in addition to power outages. Create a plan to stay in touch with each other ahead of time using either social media or apps that don't require Wi-Fi (i.e. Zello or Walkie Talkie). Mobilize those who have little to no damage to help those who fared worse. If the company building requires cleanup, assemble your team to help out. Once everyone is taken care of, reach out to your immediate community with your work force and offer assistance to those who need it. Document this and promote it on social media, in newsletters, and so forth. Sharing such activities with your community, customers, and vendors sets a positive example, will help your team feel productive, and will generate a lot of goodwill.