The Energy Industry is always changing. Winter this year could be challenging as it seems to be coming early. For many years natural gas storage has been very high, it has carried us through stressful weather and conditions without a lot of spikes in prices. Natural gas storage is now at lower levels than it has been in a while. The combination of early winter and lower storage is contributing to recent spikes in prices. Electricity follows suit. You can see in the graph above that last October and November the prices held pretty steady relative to this year.
The point of this is that CES can help you with your commercial energy bill if you are in a deregulated state. The fact is this recent spike in price looks large, but if you go back a few years, you can see how high it CAN go. See the graph below.
Call CES today and lock in a fixed rate that can protect you from the volatility of energy prices. We'll get you the best rate in the current market! 1-866-748-2669.
Now, I want to shift gears and share something else with you.
We've had such an adventurous month. On October 10th Hurricane Michael hit the pan handle of Florida. Though we did not experience the effects of the hurricane directly, our northern neighbors were devastated. As we write this newsletter, there are still many homeless and areas that will take years to rebuild. Along with the human experience, another casualty of a storm like this is displaced pets. There are lots of them!
One employee here at CES had a soft heart and took in a great dog. I wanted to share her story this month. If it inspires you to adopt a pet our mission has been accomplished!
As a note, we have a lot of great people here at CES. As the Holiday Season approaches, I just wanted to share with you this heartwarming story as an example.
"A few weeks ago, while scrolling through my Facebook feeds a picture popped out at me–an animal lover like me was looking for a foster family for a dog that had followed around several of the volunteers who were helping out in Panama City after Hurricane Michael. They had taken him under their wing instead of surrendering him to any of the SPCAs who sadly are so overwhelmed and have to put unclaimed animals down within 30 days. The volunteers were from Clearwater and brought him here in hopes of helping this pup after he went through such a traumatic experience.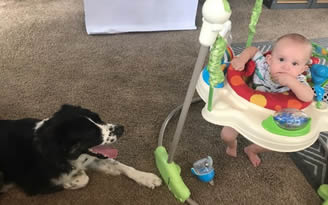 "We lost our Lab last year in August and I'd been missing having a dog around. Although the timing was off, I couldn't help but feel a certain connection with this pup. I have three cats, a 10-month-old and a husband as well as an upcoming three week Christmas trip to Cape Town South Africa. But something spoke to me about this dog that he was special and had overcome all odds. We welcomed him into our home late one Sunday night.
"My son took to him instantly and wants to follow him everywhere and laughs and giggles at all the kisses he gets from Sammy. I could see they were fast friends and despite Sammy's size (he's a big dog) he is very gentle with Finn. He seems to know this little human needs to be treated with care.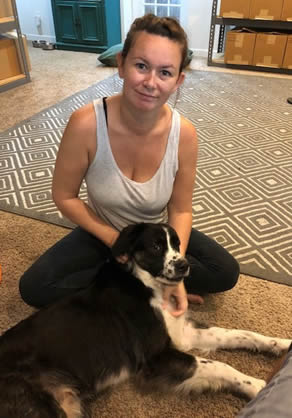 "My husband named him Sammy Hagar, after the old rock star, to go along with our rock star-themed animal names. Within a few days of having Sammy we realized instantly he was the perfect addition to the family. The cats are getting used to him, but the humans are in love with him. Signs of the trauma he must have experienced are still apparent on our walks—he steers clear of all fountains and sharp quick noises frighten him. But the more he settles in the easier and less fearful of the environment he becomes.
"We are so happy to have him added to our family and we couldn't love him more. I'll be happy the day he drinks from his water bowl without his body preparing to leap away in case it jumps up at him. He's a bit skinny but is filling out nicely and will be back to full health in no time. If anyone is thinking of getting a family dog for the holidays or just because, please adopt! The shelters are full to overflowing and these well-loved pups, through no fault of their own are homeless and need loving people to take them in! You never know where your fur baby companions will come from, but they really do add such love light to your life. Please adopt or donate to shelters. If you can't keep one, maybe you can help by fostering!" –Chelsea
Thanks, Chelsea, for taking on Sammy and sharing your story!